Gutter Shutter is available from our Colorado office only. We are Denver's only licensed Gutter Shutter dealer!
We are excited to bring the best Leaf and debris free Gutter system to the Denver Metro, including Ft. Collins and Colorado Springs!
Call us today for a free in home demo! 303-519-5896
The Gutter Shutter system is a top selling product in Oregon, Ohio, and many other States, and parts of Canada.
Gutter Shutter has been trusted for over 15 years in some of the thickest forested areas of North America!
It is now available for your leaf and debris free needs in the Denver Colorado market!
Below are some of the more frequently asked questions about the Gutter Shutter system and installation. Of course we're always happy to answer your questions, so don't hesitate to contact us or your local factory authorized Gutter Shutter dealer if you have any questions or to get a free, no-obligation estimate and see the product first-hand.
Available in a variety of colors!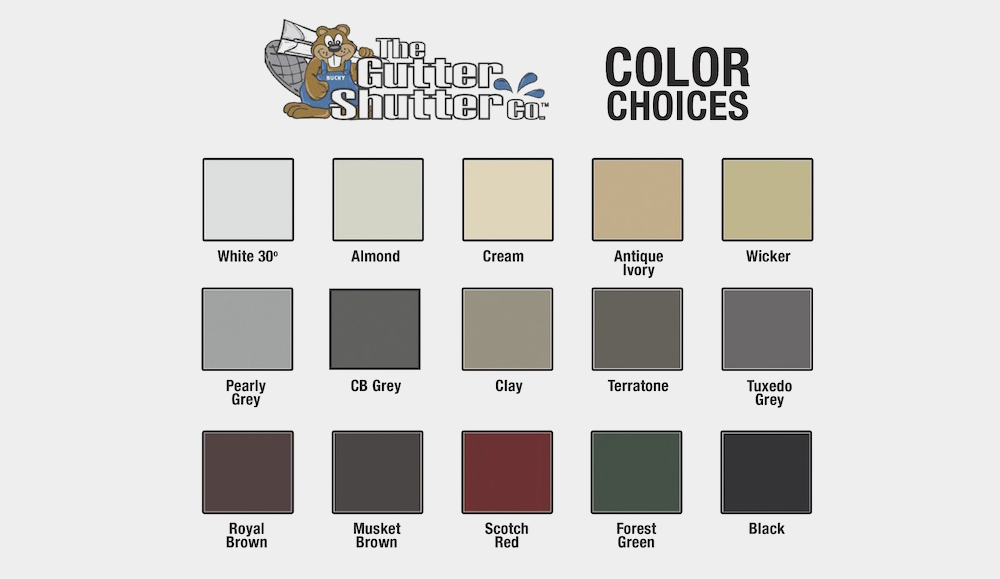 Blank
How Does it Work?
Gutter Shutter completely encloses and protects. There are no vertical openings for water or clogging debris to enter, and no screens, inserts or filters to clog. Rainwater flows over and around the nose of the Gutter Shutter by the simple physical law of water surface tension. It's just like the way water clings to the side of a glass when it's poured. The Gutter Shutter System has more surface tension than any other system. This will afford you the peace of mind that comes with knowing you no longer will be putting anyone's health or safety at risk that comes with climbing the ladder to clean your gutters. Your fascia is no longer at risk of additional rotting as the exclusive High Back system ensures your board is covered in aluminum, adding to Gutter Shutter's water management features.
Will Clog-Free Gutters Work on my Steep Roof?
The steeper the roof, the better Gutter Shutter performs. The funny thing about roofs is that the steeper they get, the less water they catch. A flat roof catches all of the rain that falls over it. As you begin to tilt a flat roof upward, angling its surface to the rain, you reduce the surface area that can catch rain and reduce the total amount of rain to be handled by the gutter. Granted, the water that is caught will flow faster but, fast water flow has no effect on how Gutter Shutter performs.
Will Water Just Spill Over the Edge in Heavy Rain?
The Gutter Shutter system has been designed and tested to handle the heaviest rainfalls. Both the 5" and the 6" hood have exclusive flow reducers that slow the water coming off your roof. However, it's the principle of surface tension that keeps the water flowing into the gutter. Surface tension isn't affected by the amount or speed of the water flowing so even in the heaviest rainfalls, Gutter Shutter will still work smoothly.
Do One-Piece Gutters Still Make Sense?
When it comes to covered gutters, one-piece designs simply don't make sense. Because the top and bottom are made in one piece, if either piece gets damaged they both need to be replaced. And because the top isn't removable it's very hard to clean or service the gutter. The newest state-of-the-art integrated gutter systems use a two-piece technology. The top is a separate piece that can be replaced if damaged without replacing the seamless gutter. One type uses a snap on hood but snap on hoods can be easily damaged or blown off in high winds. Gutter Shutter's two-piece design secures the separate hood to the bracket and trough. The secured hood is very strong – it can't be blown off by the wind and allows easy access if service is ever needed.
Can I Save Money by Using My Old Gutters?
It's more likely, over time, that your old gutters will cause as much as 10 times their value in home repairs because of poor design. It simply doesn't make sense to keep them! Companies selling products that rely on using your old gutters want you to believe that you're going to save a lot of money by a lower initial cost. The truth is you can install a complete Gutter Shutter system for the same or less money, and you can rely on our lifetime guarantee of a product that will hold up over time! Ask your Gutter Shutter representative about our "Best Value Guarantee."
What if I Still Need to Get on my Roof?
The Gutter Shutter system is made with 0.032″ thick aluminum – the strongest application used for a residential application. Standing a ladder or other similar device against the Gutter Shutter system is not a problem.
What Happens to my Gutters if I Get a New Roof?
The Gutter Shutter attaches directly to the fascia board, in no way interfering or associated with the roof.
How is the Gutter System Attached to my Home?
6in-Stud-with-White-Background_Small-file Because the method of attachment is the most important part of any gutter system, the Gutter Shutter system attaches to the home using our unique, patent pending Gutter Stud, the heart of the system. Unlike typical systems that use an inexpensive plastic or glass filled polypropylene bracket, the Gutter Stud is made mostly from a virgin nylon material which will not shift due to material breakdown because of weather conditions and is applied to the fascia using two 3″ galvanized screws, no nails or rivets, spaced every 24″ on the board in a vertical fashion, ensuring permanent attachment to the home. Installation procedures are the utmost importance on this home feature and the Gutter Shutter users factory trained applicators with the vast experience in our leaf and debris free systems treatment to ensure your satisfaction in performance!
When a storm comes through your neighborhood it can be hard to know the full extent of damages to your property. Hail damage can be hard to see to an untrained eye, and the best thing to do is call for a free inspection.
After inspecting your property we will walk you through the damages found and let you know the best solution to resolve your loss.
Your insurance company may not have your best interest in mind. Often times an adjuster may miss damages or worse yet not pay for any. It is very beneficial to have a representative onsite to discuss the damages seen. Unfortunately every year we come in contact with homeowners who did nothing after a storm or tried on their own to get the damages covered only to be denied their claim. Don't miss out on your chance to have these damages repaired in a timely and cost effective mannor. Call Blue Ox Exteriors Today! – 303-519-5896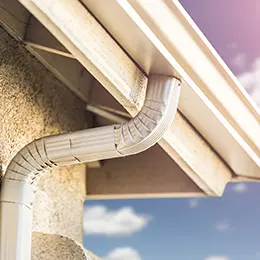 Standard Gutters
Seamless 5" & 6" K-Style Gutters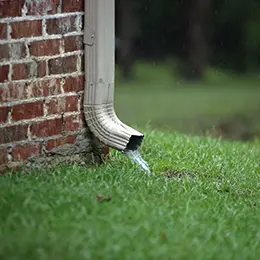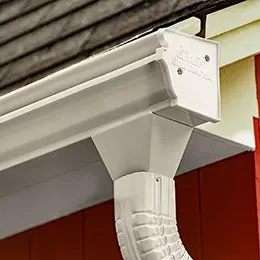 GutterShutter
Available for your leaf and debris free needs.
Whether you hire Blue Ox Exteriors to help you with a retail project or storm restoration, we strive to make your experience a pleasant one.  Don't settle to work with just any contractor, choose one you can trust.
Free Project Consultation
Contact us to discuss your project. Insurance Restoration or Retail work, we can handle your Exterior Project from start to finish.